Rabbi and Staff
CBH Rabbi and Staff
Rabbi Mike Rothbaum, Senior Rabbi
Rabbi Michael Rothbaum (he/him) is thrilled to join Bet Haverim as Chief Haver. Ordained at the pluralistic Academy of Jewish Religion in New York (AJR-NY) in 2006, he graduated from the New College of Florida in 1997 with a BA in Public Policy/Economics.
Rabbi Mike was raised in Rockland County, New York just north of New York City. As a teenager, Rabbi Mike became involved in in the local NAACP and helped start his high school's first Amnesty International chapter. In retrospect, he has identified the Jewish imperative of r'difat tzedek – the command to pursue of justice – as the force that solidified his love of Judaism and his passion to become a rabbi.

After ordination, Rabbi Mike served students at Sarah Lawrence College and Purchase College as Campus Rabbi. He has worked in Jewish communities in New York, the Bay Area, and the Boston area for over 25 years, as youth director, rabbi/educator, and pulpit rabbi, as well as serving as Co-Chair of the Bay Area Regional Council of Bend the Arc: A Jewish Partnership for Justice.

Rabbi Mike has spoken and taught widely, addressing groups as varied as Moishe House, Jewish Community Relations Council, and "Nuns on the Bus." He has appeared in front of audiences at the US Senate and House of Representatives, Oakland City Council, and the New York State Democratic Party. In 2012 he joined a rabbinic delegation to Ghana, sponsored by American Jewish World Service, and was named a Global Justice Fellow by AJWS in 2018. His writing has been featured in Forward, Tikkun, Sojourners, Alma, Ha'aretz, and the anthology, Peace, Justice, and Jews: Reclaiming Our Tradition.

A proud alumnus of Seminary Summer, a joint project of the AFL-CIO and Interfaith Worker Justice, bringing labor organizers together with clergy, Rabbi Mike was also honored as the Gary David Kibblewhite lecturer at the Loft Community Services Center in White Plains, NY, as well as a speaker at the International Perspectives Forum in Westport, CT and the Paul Robeson Community Center at Rutgers University in Newark, NJ. Rabbi Mike's religious-based activism has been covered in several media outlets, including CNN, WABC-TV, and i24 Israeli television.

Devoted to creating and nurturing vibrant learning communities, teaching Torah that touches heart, mind, and soul, and continuing the Jewish mission he discovered as a teenager of pursuing justice, Rabbi Mike is a passionate advocate for the idea that every moment is an opportunity to make a Jewish choice.

Rabbi Mike lives in the Summerhill section of Atlanta with his husband, internationally-acclaimed Yiddish vocalist Anthony Mordechai Tvzi Russell, who kindly tolerates his passion for fair-trade coffee, Bob Dylan, and manual transmission.
rabbimike@cbhatlanta.org | Ext. 4 | Contact Hailey to make an appointment
---
Greg Lawrence, Executive Director
Greg is excited to join the Congregation Bet Haverim community, one that reflects his own personal, progressive Jewish values.
Greg arrives most recently by way of Temple Beth Sholom in Miami Beach, where he spent 7+ years, including 4 years as Director of The Tribe, TBS's Jewish young professionals community engagement and leadership development initiative, and 3+ as Director of Membership.
Prior roles in his Jewish professional career include Membership Liaison at Congregation Sha'ar Zahav, San Francisco's preeminent LGBT Synagogue and Operations Manager at Eden Village Camp, a pluralistic Jewish organic farm sleepaway camp and retreat center in New York. He has also held many positions as a Jewish educator over the years, including 1 year as a teacher in our CBH Community School during the sole prior year that he lived in Atlanta, 2013-2014.
Greg holds bachelors degrees in both psychology and neuroscience from Brandeis University (Waltham, MA). He holds a master's degree in transpersonal counseling psychology from John F. Kennedy University (Pleasant Hill, CA). His most recent foray into post-graduate education was earning 1 unit of Clinical Pastoral Education through Emory Center for Pastoral Services, where he could be found as a chaplain intern at Emory Midtown Hospital.
Greg joins the CBH community alongside his wife, Rachel, and their two children, Hazel and Ember, who will eagerly be participating in CBH Community School.
execdirector@cbhatlanta.org | Ext. 1
---
Will Robertson, Interim Music Director & Chorus Director and Bandleader, is the composer or arranger of much of the synagogue's repertoire.
Will studied classical double bass, composition and choral conducting at Rice University in Houston and the Kodaly Pedagogical Institute in Hungary and music production at Berklee College of Music in Boston. He has been the producer of all of CBH's albums to date.
As an instrumentalist, Will has worked or performed with Grammy-winning and -nominated musicians such as John Mayer, Clay Cook (Zac Brown Band), Shawn Mullins and Pat Sansone (Wilco). Will has also produced/engineered, performed with and arranged for artists such as Rebecca Loebe (featured on the debut season of NBC's "The Voice"), David Berkeley, Arlington Priest, The Brilliant Inventions and Eliot Bronson. Will's work has been featured on TV and radio worldwide.
Will, his wife Amy and their two children are actively involved members of CBH.
"The thing I have found most compelling about working with the musicians of CBH is their thirst for fusing all sorts of different sounds in interesting ways," Will says. "We somehow manage to successfully navigate a number of different stylistic roads, merging many varied traditions (Jewish and otherwise) with popular song, world music, ancient chant and all sorts of sounds you'd never expect to hear in a synagogue. I think this musical audacity is directly attributable to the culture of the congregation; incredible leadership from Rabbi Josh and Gayanne; a group of singers and instrumentalists with the focus, energy, dedication and desire to work to create something really unique; and, not least, the interpretive spirit of Reconstructionist Judaism. It's an honor and an incredible pleasure to be a part of this group."
---
Kate (Adina) Hennessey, Education Director, (she/they) has been working in Jewish education 12+ years. She has worked with a spectrum of age groups and people of diverse Jewish backgrounds, and worn many hats in the educational Jewish community. Jewish education has been her lifelong passion, and she has enjoyed getting to work with and support various Jewish organizations around Atlanta.

Kate is guided by two principles when it comes to Jewish education:
Firstly, as Solomon said, "Teach a child according to their way"--meaning that it's our job as educators to find ways that children connect to their Jewish identities, and not expect them to fit a one-size-fits-all mold! And secondly, an educator's job isn't to gatekeep Judaism, but to foster a safe space for children to individually explore what it means to them.
When she's not at CBH, Kate enjoys spending time with her son and their cats, hiking mountains, reading tarot, and writing articles for independent Jewish feminist and parenting magazines.
---
Hailey Monette, Event Manager and Rabbi's Assistant, comes to us with an extensive creative background. She graduated with a BFA in Interior Design but after college went into event planning and has experience with all types of events from weddings to group trips and everything in between. For the last few years she has owned a bakery and was a cake artist, but after recently selling her business she decided that she missed event planning and is happy to jump right back in at CBH! She resides with her amazing husband and son as well as her two pups. Her son is a Senior in High School and looking forward to starting college in 2022. Hailey's passions include planning parties, the arts, volunteering and traveling.
programs@cbhatlanta.org | Ext. 5
---
Anquenetta Kenon, Office Administrator | Anquenetta is a Greater Atlanta native and finds new reasons to love the city each day. She obtained a Bachelor of Science in Psychology with a minor in Studio Art at Oglethorpe University. Shortly afterward, she completed her Master's degree in Social Work at Georgia State University. After working for several years as a private school administrator and gaining additional experience at local nonprofits, she utilizes her knowledge base and skills in this avenue to serve the city of Atlanta. At Congregation Bet Haverim, Anquenetta works to provide support and organization to promote impact and success.
Outside of work, Anquenetta enjoys going for long walks, reading, arts and crafts, and spending time with treasured friends and family.
admin@cbhatlanta.org | Ext. 2
---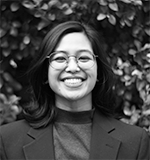 Abbie Garcia, Engagement & Programming Associate | Abbie, originally from Florida, has lived in Korea for the past 4 years, and is excited to join the CBH team! They graduated from Florida State University with two bachelors, one in Media Production and the other in Theatre. After graduating, Abbie has committed their life in Korea to educating youth on intercultural awareness, community engagement for the LGBTQ+ community, as well as creating content reflecting on ex-pat experiences in Korea. They have produced Twitch live streams, podcasts, as well as YouTube videos centered around social issues. They are thrilled to bring their skills to CBH and help promote a strong and inclusive community. Having just moved here with their partner, Abbie is looking forward to getting to know Atlanta and the members of CBH. When Abbie isn't camping or doing something outdoors, they like to practice yoga, play the ukulele, and make Spotify playlists.
engagement@cbhatlanta.org | Ext. 3
---
Laurie S., Communications Manager
---
Rabbi Joshua Lesser, Rabbi Emeritus | Rabbi Josh is a committed leader for justice and mutual understanding and his work has breathed new life into Jewish tradition. He recently transitioned from Congregation Bet Haverim's Senior Rabbi to Rabbi Emeritus after 22 years of service. As a catalyst, he supported the creativity, ingenuity, and enterprising spirit of members in their engagement in synagogue life.

He also founded the Southern Jewish Resource Network for Gender and Sexual Diversity, cofounded the Faith Alliance of Metro Atlanta, serving as its first Jewish president, and chaired the City of Atlanta's Human Relations Commission. He sits on the Mayor of Atlanta's Task Force for LGBT Concerns and was recently awarded the Phoenix Award, Atlanta's top honor given to its citizens, for his unwavering service to the city. He was the editor of the groundbreaking LGBTQ Torah commentary, Torah Queeries, and was recognized as one of The 36 Most Inspiring Rabbis by the Forward and one of The 100 Most Influential LGBTQ Clergy by the Huffington Post.

Most recently, he co-founded Bridges Faith Initiative, a nonprofit mobilizing the faith community to support just immigration policy and civilian security. He serves as an adjunct professor of Judaism at Agnes Scott College and as a consultant on Diversity, Equity, and Inclusion. A trained spiritual director, Josh currently works with The OnBeing Project and their Social Healing Fellowship as the Spiritual Director to the fellows and as a spiritual director for Hebrew Union College serving their rabbinical students. He is part of the inaugural Mid-career Rabbinic innovation fellowship at the Center for Rabbinic Innovation.

Josh's work continues to elevate timely conversations that help communities engage in healing and justice. To respond to the challenges that faith and spiritual leaders have encountered during the pandemic and political disruption, he created two international online forums for clergy to brainstorm, share resources, and offer mutual support. Josh's leadership experience and focus on social healing help his clients and communities advance their missions, cultivate connection and deepen communal joy.
Tue, January 31 2023
9 Shevat 5783
Rabbi's Blog recent posts
Tue, January 31 2023 9 Shevat 5783